Image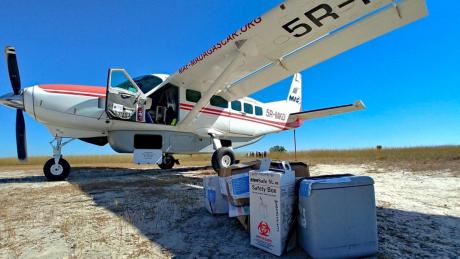 MAF aircraft delivering Covid vaccines to Melaky region, Madagascar, May 2021 Photo: Ian Purdey
MAF delivered the very first Covid vaccines to Marolambo, east Madagascar, in May 2021, more than a year into the global pandemic that halted the world. The box of Astra Zeneca vaccines, provided by the government, were the very first vaccines to be delivered on the island.
"We flew 500 doses of the Astra Zeneca vaccine to the community in Marolambo," shared MAF pilot Wouter Nagel, "a journey that would take one to two weeks with a 4x4 vehicle (if it's passable ); or a 40-minute MAF flight." It gives a brief understanding of how degraded the roads in Madagascar are.
Two days later, the plane was again chartered by UNICEF for a second vaccine flight, this time to four different destinations. Travel restrictions between regions due to the pandemic meant that no passengers could accompany the 320kg of cargo. After 6.5 hours of flying pilot Ian Purdey reported, "A total of 6500 doses [were] delivered of the Covishield and Astra-Zeneca vaccines - enough for 3250 people."
MAF has prior cold chain delivery experience, hence procedures were already in place to assist with the distribution of Covid vaccines. The doses needed to be stored between 2-8° Celsius and were shipped in cold boxes. In 2021, a total of 25 flights transporting Covid supplies to numerous destinations were carried out.
MAF continues to partner with organizations to serve together and help communities living in isolation in all corners of the world to deliver support, hope, healing and spiritual care through aviation.
Image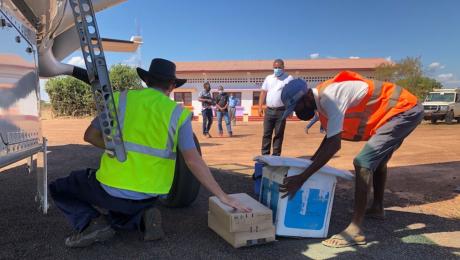 MAF delivers covid vaccines in Maintirano, May 2021 Photo: Wouter Nagel