Image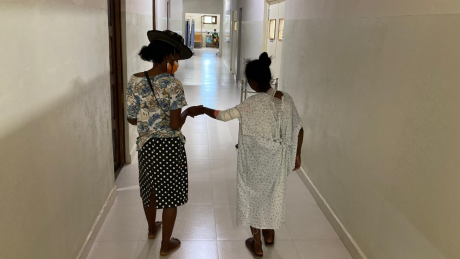 Sarah and mother at HVM hospital Mandritsara after surgery - Jeshiah Theissen
Thirteen-year-old Sara was badly burned while playing, which left her right arm fused to her torso. Three years later MAF had the joy of flying Sara home after life-changing surgery at HVM hospital, Mandritsara, to release her arm.
Sara lives with her mother, Vivian, and her three brothers about 60km north of Antananarivo. She had been playing under the living room table with her siblings in 2019 when an oil lamp tipped over and set the table and Sara on fire. Local hospitals attempted to treat her injuries but without success.
Life has been hard for the family. Vivian is partially blind and unable to work. Earlier this year they lost their home to a cyclone, and they have not had the funds to rebuild their home in addition to paying for Sara's earlier operation. But hope appeared on the horizon.
Nehemia, a Christian relief organisation, received funds to send Sara, now sixteen, for treatment at the HVM hospital, Mandritsara, well known for its medical expertise and care.
Image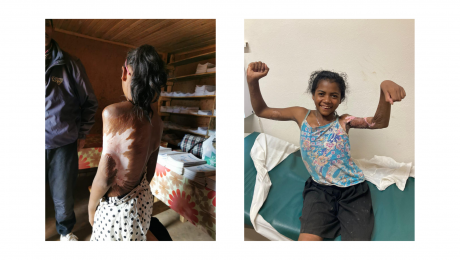 Sarah before and after surgery - Photo: Irina Randriamandrato
Sara and Vivian left home via taxi-brousse (bush taxi/bus) as soon as they could, travelling the 558km overland to reach the hospital. Doctor Jeshiah Theissen, who performed the operation, shared, "Sarah's mother called us the day they left, three hours into the trip, asking if it was normal that they hadn't arrived yet. We had to explain that the trip would take 56 hours and not three hours." Though the trip was long, thankfully they arrived safely.
After the successful operation, and eight weeks recovering in Mandritsara, MAF was called upon to fly Sara and Vivian home. It was their first experience in a plane, and they were more than delighted!
Image
Sarah, her mother, Vivian and Doctor Jeshiah Theissen in front of MAF plane - Irina Randriamandrato
The flight took just 1 hour and 20 minutes, in contrast to 56-hour overland journey they had taken earlier.
Three different organisations participated in transforming Sara's life and returning her home safely. As Patrick Keller, MAF's Country Director, shares, "We cannot do all, but we can do our part. That is what is beautiful about working together with other organisations."