Image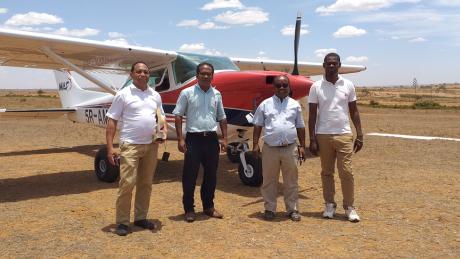 FFBBM delegation in front of MAF aircraft in Ambovombe - Photo: Ryan Unger
In 2021, the southern region of Madagascar experienced its worst drought in 40 years. Combined with the economic effects of the Covid-19 pandemic, the situation is still declining. 
On December 14th, 2021, MAF Madagascar flew a small delegation to Ambovombe, in the southern part of the island, for a 3-day trip to distribute food to communities.
A church mission abroad had given a donation to the FFBBM (Malagasy Association of Biblical Baptist Churches) to bring relief to the Christians in the south experiencing a significant drought which had affected crops and food supply.
Pilot Ryan Unger flew Josoa Salama Emmanuel (General Secretary) and Honore Razafiniaina (Pastor and Board Member) to Ambovombe to supervise food distributions in various places, in collaboration with Pastor Jonoro, who has been working in the south for more than a decade and is already well acquainted with MAF. A total of 2500 people received food rations and heard the Gospel.
Josoa spoke to us about a church leader that told him,
"I am thankful to God for this food. But I am more thankful to see a crowd gathering here today and hearing the gospel and committing to repent and being saved." 
In addition, a lady told him,
"Last Saturday, we asked ourselves: 'what will we eat, after trying hard to find what to eat. But God heard our cry and today we got something to eat. Thanks to God for hearing our cry."