Image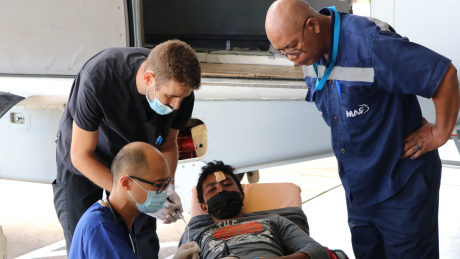 Doctors Jesh and Joel with MAF staff in hangar - Photo: Irina Randriamandrato
Our pilots were called for a flight early one morning. A young man, Finaritra, had broken his femur in a road accident earlier that day in Antananarivo. His family took the decision to send him via a MAF flight to Mandritsara, where his parents live and where they felt confident he'd receive care at the HVM (Hopitaly Vaovao Mahafaly) hospital.
The HVM hospital is a well renowned hospital with which MAF has been working with for over 10 years now. Though it is located in a rather isolated town, the hospital in itself is well equipped and consists of an operating theatre, an eye department and operating room, a laboratory, an Xray department, and a pharmacy. Their staff team, made up of both locals and long and short-term missionaries, is focused on providing a high standard of health care. They are dedicated to ongoing staff development and training which is why they also have a nurse and midwifery school.
Doctors Joel Chin and Jeshiah Thiessen had already completed a roundtrip flight with MAF to Mandritsara earlier that morning for a patient with Diabetes. They were back again awaiting to take charge of Finaritra.
The plane was planned to depart from Ivato at 11am, but due to some complications with the ambulance at the entrance of the national terminal, there was delay: the airport security personnel were wondering why a client was flying from the capital to Mandritsara for a surgery and not vice versa (as it would generally be). It was explained that due to slow services at the hospital here, the family decided it was best and quicker for him to go home to his parents and get surgery there.
The ambulance finally made it to the hangar. While Joel and Jeshiah were anesthetizing Finaritra's leg for the flight, Finaritra's aunt told us, "He had the accident in the early afternoon, we got to the hospital at 3pm, and until 10pm, other than pain medicines from nurses, no doctors came to check on him or help". She explained that that was when they decided it was best for him to go home to Mandritsara and called MAF for assistance.
After a 1 hour 20-minute flight, the plane landed safely in Mandritsara. Finaritra's parents were already there to welcome us at the landing strip. As soon as Finaritra was out of the plane and in the pickup, they were off to the hospital with Joel and Jeshiah.
The next day, Finaritra's father called to say that the femur surgery, that took 3 hours, went well and that Finaritra was awake and thanked us for everything we had done for him and his family.
Image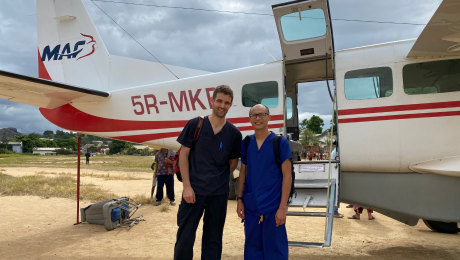 Doctors Jeshiah and Joel in Mandritsara in front of MAF plane - Photo: Irina Randriamandrato