Image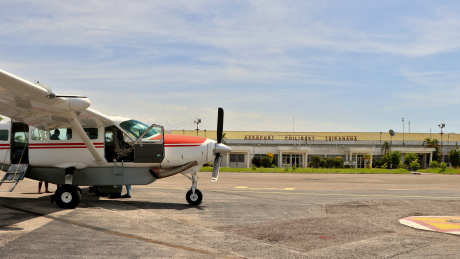 MAF plane on airstrip in Majunga - Photo: Irina Randriamandrato
As a monster cyclone edged closer to Madagascar, a MAF plane was called to a remote town for an urgent medical evacuation.
Mbola, who lives in Majunga, in the north of the island, was suffering from severe kidney failure and needed to be transported to the capital, Antananarivo.
The journey between Majunga and Antananarivo used to take eight to nine hours, but the deterioration of the route has lengthened the travel time out to 12 hours. With Mbola unconscious and in a serious condition, the 90-minute flight with MAF was the best option. Mbola's worried brother, Maka, joined the flight to help with care along the way.
Image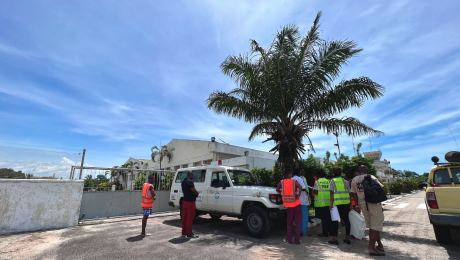 4x4 ambulance in Majunga airport bringing patient - Photo: Irina Randriamandrato
Cyclone Freddy was not far from Madagascar at the time and as the patient was in critical condition, timing was crucial.
Upon our arrival, MAF pilot, Wouter Nagel, got to work straight away. The patient had been driven to the airport in the back of a 4x4, unconscious with oxygen supply. Wouter spoke with Doctor Herbert, who joined the flight to monitor the patient, about the patient's condition and how important it was for him to have a good supply of oxygen.
Luckily, our plane had the necessary equipment to provide Mbola with oxygen throughout the flight. "We check the pilot's oxygen saturation every once in a while during flights. In this case we can use it for the patient," said Wouter Nagel while Doctor Herbert was doing final check-ups on the patient.
Image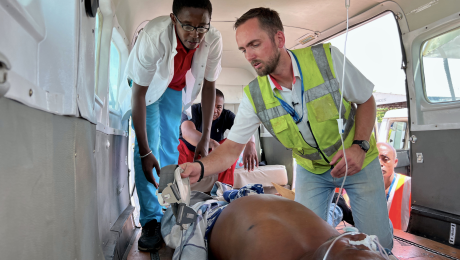 Dr Herbert and Wouter preparing patient for flight - Photo: Irina Randriamandrato
Once they finished talking logistics, we immediately returned to the aircraft where Wouter started prepping the stretcher where Mbola would be lying down during the flight. Given that the patient's condition was severe, they had to be careful when transferring him from the 4x4 to the aircraft. When he was strapped in, Doctor Herbert and Wouter carefully set up the oxygen, and we were off to Antananarivo. The doctor monitored Mbola's respiration and oxygen flow throughout the journey.
Image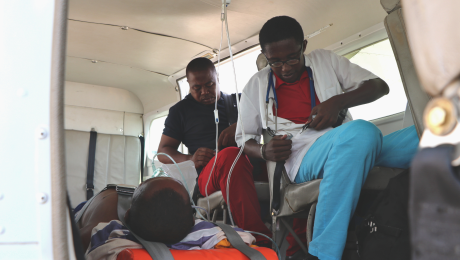 Doctor Herbert and Maka in MAF plane before departure - Photo: Irina Randriamandrato
The plane landed safely in Antananarivo, shortly before Cyclone Freddy was due to make landfall on the east coast of Madagascar.
Upon arrival, the ambulance was already there to pick up the patient and those who accompanied him. They delicately transferred Mbola from the aircraft to the ambulance and headed to the hospital.